"Merry Christmas To My Mom - May the holiday season bring you as much joy as you have brought me through out the year. May the stars shine as bright as your beautiful smile, and may you cup overflow with the LOVE I have for you! Love You Forever & Always!"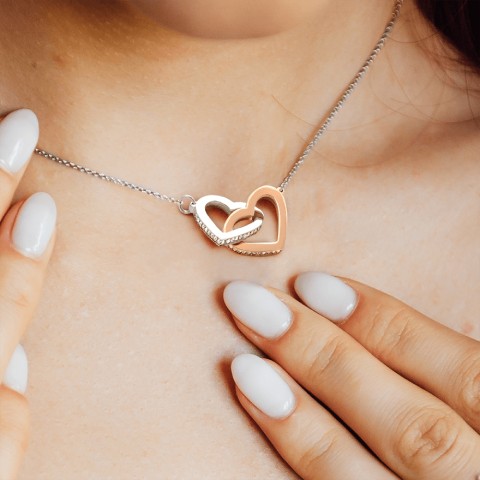 Give your mom the gift that symbolizes your never-ending love. Featuring two lovely hearts embellished with cubic zirconia crystals.
This Interlocking Hearts necklace is the perfect memorable gift that will dazzle your mom for years to come.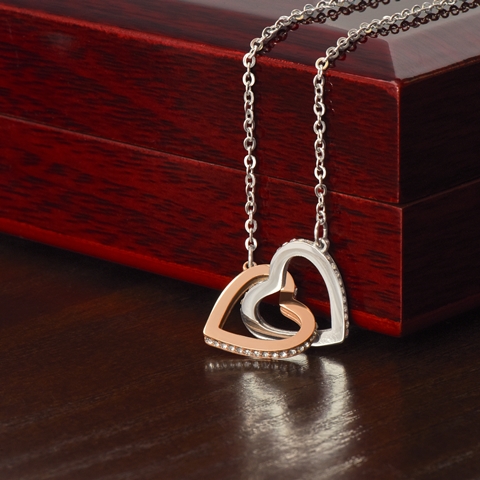 Product Specs:
 Two heart pendants embellished with CZ crystals
High quality polished surgical steel and rose gold finish or 18k yellow gold finish
Pendant dimensions: 0.6" (1.5cm) height / 1.1" (2.8cm) width
Adjustable length: 18" - 22" (45.72 cm - 55.88 cm)
Lobster clasp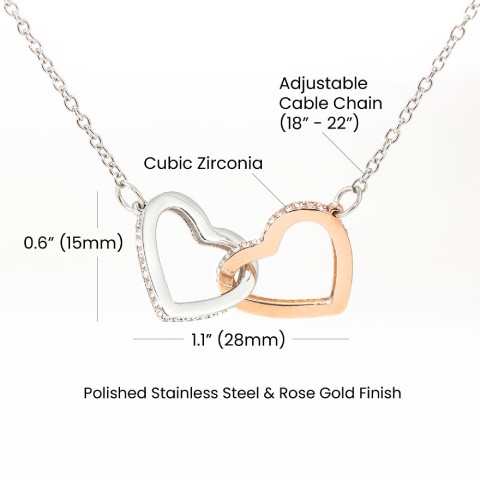 GUARANTEE:
We Offer a 100% Guarantee!
If you're not 100% satisfied with your
purchase for any reason, please contact
us and we will make it right.
Your satisfaction is our ultimate goal.

SHIPPING:

Unique, One-Of-A-Kind-Gift
NOT SOLD IN STORES
USA: 2-8 Business Days
All orders ship with Love from the USA
Unique, one-of-a-kind gift

NOT SOLD in stores

USA: 2-8 Business Days
Hurry! We Sell Out Frequently
Unique, one-of-a-kind gift

NOT SOLD in stores

USA: 2-8 Business Days
We've adjusted our estimates below based on the latest information from our carriers.
Once shipped, delivery within:
USA: 2-8 Business Days
Canada: 5-10 Business Days
Europe: 2-8 Business Days
International: 5-20 Business Days
All orders ship with Love from the USA
"Merry Christmas To My Mom - May the holiday season bring you as much joy as you have brought me through out the year. May the stars shine as bright as your beautiful smile, and may you cup overflow with the LOVE I have for you! Love You Forever & Always!"

Give your mom the gift that symbolizes your never-ending love. Featuring two lovely hearts embellished with cubic zirconia crystals.

This Interlocking Hearts necklace is the perfect memorable gift that will dazzle your mom for years to come.

Product Specs:

 Two heart pendants embellished with CZ crystals
High quality polished surgical steel and rose gold finish or 18k yellow gold finish
Pendant dimensions: 0.6" (1.5cm) height / 1.1" (2.8cm) width
Adjustable length: 18" - 22" (45.72 cm - 55.88 cm)
Lobster clasp

GUARANTEE:
We Offer a 100% Guarantee!
If you're not 100% satisfied with your
purchase for any reason, please contact
us and we will make it right.
Your satisfaction is our ultimate goal.

SHIPPING:


Unique, One-Of-A-Kind-Gift
NOT SOLD IN STORES
USA: 2-8 Business Days
All orders ship with Love from the USA




We've adjusted our estimates below based on the latest information from our carriers.

Once shipped, delivery within:

USA: 2-8 Business Days

Canada: 5-10 Business Days

Europe: 2-8 Business Days

International: 5-20 Business Days

All orders ship with Love from the USA