"To Our Son - Never forget that we love you. If we had to choose between loving you and breathing, we would use our last breath to say, We Love You! Just remember that no matter how near or far apart we are always right there in your heart. You'll always be our Baby Boy. Love You Mom & Dad!"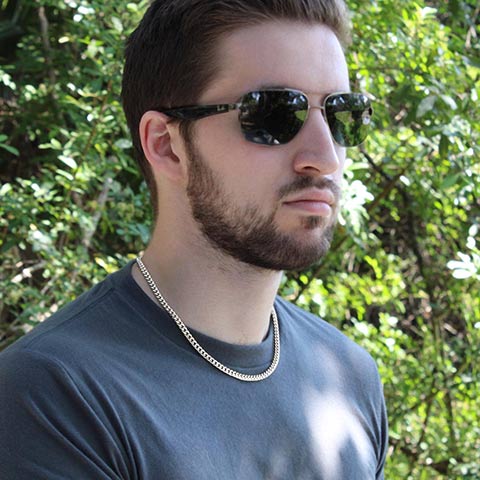 Give your special someone a classic necklace that shows off their strength and style! Our Cuban Link Chain is the perfect gift for any occasion, including birthdays and holidays.
Available in polished stainless steel or 14K yellow gold, you can be sure this wonderfully weighted necklace will be a staple piece in their wardrobe. And since the chain is adjustable, this necklace will look spectacular on everyone who wears it.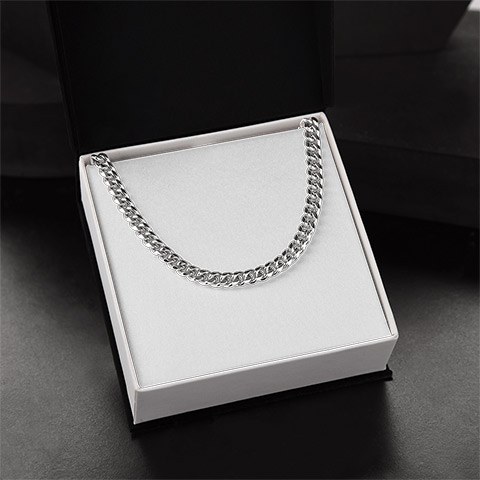 Product Specs:
Polished stainless steel and 14k yellow gold over stainless steel
Adjustable length: 18" - 22" (45.72 cm - 55.88 cm)
Chain width: 5 mm
Weight: 28.5 grams (1.005 oz)
Parrot clasp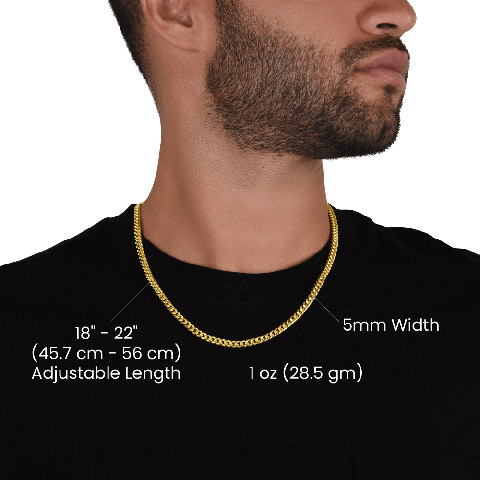 GUARANTEE:
We Offer a 100% Guarantee!
If you're not 100% satisfied with your
purchase for any reason, please contact
us and we will make it right.
Your satisfaction is our ultimate goal.

SHIPPING:

Unique, One-Of-A-Kind-Gift
NOT SOLD IN STORES
USA: 2-8 Business Days
All orders ship with Love from the USA
Unique, one-of-a-kind gift

NOT SOLD in stores

USA: 2-8 Business Days
Hurry! We Sell Out Frequently
Unique, one-of-a-kind gift

NOT SOLD in stores

USA: 2-8 Business Days
We've adjusted our estimates below based on the latest information from our carriers.
Once shipped, delivery within:
USA: 2-8 Business Days
Canada: 5-10 Business Days
Europe: 2-8 Business Days
International: 5-20 Business Days
All orders ship with Love from the USA
"To Our Son - Never forget that we love you. If we had to choose between loving you and breathing, we would use our last breath to say, We Love You! Just remember that no matter how near or far apart we are always right there in your heart. You'll always be our Baby Boy. Love You Mom & Dad!"

 




Give your special someone a classic necklace that shows off their strength and style! Our Cuban Link Chain is the perfect gift for any occasion, including birthdays and holidays.




Available in polished stainless steel or 14K yellow gold, you can be sure this wonderfully weighted necklace will be a staple piece in their wardrobe. And since the chain is adjustable, this necklace will look spectacular on everyone who wears it. 




Product Specs:

Polished stainless steel and 14k yellow gold over stainless steel
Adjustable length: 18" - 22" (45.72 cm - 55.88 cm)
Chain width: 5 mm
Weight: 28.5 grams (1.005 oz)
Parrot clasp




GUARANTEE:
We Offer a 100% Guarantee!
If you're not 100% satisfied with your
purchase for any reason, please contact
us and we will make it right.
Your satisfaction is our ultimate goal.

SHIPPING:


Unique, One-Of-A-Kind-Gift
NOT SOLD IN STORES
USA: 2-8 Business Days
All orders ship with Love from the USA




We've adjusted our estimates below based on the latest information from our carriers.

Once shipped, delivery within:

USA: 2-8 Business Days

Canada: 5-10 Business Days

Europe: 2-8 Business Days

International: 5-20 Business Days

All orders ship with Love from the USA